Five FREE trading systems working on Prorealtime
Get ideas to develop your strategy

Improve your automated trading skills

Make regular profits from your trading system
Make a robust automated trading system thanks to Prorealtime
Obtain regular profits thanks to an automated trading system is hard.
Validate the strategy robustness is a matter for experts.
Good news: everything that you need to know is available in our free learning section!

The second edition of my ebook is available!
Concepts in Algorithms

Strategy Research

Step-by-step Coding

Optimization Models

Automated Strategy Example
---
My automated trading entries
Here are all my entries opened on the DAX Index by my trader bots since 2019.
My bots only follow the market trend and close all entries at the market closing.

The track record of my trading systems
This is the track record of my automated trading systems since 2019 on the DAX Index.
My system is made up of several trading bots designed through Prorealtime.
I designed automatic trend-following trading systems. They only operate the low-volatile bull market.

Develop your automated trading system
I created this template to help you to develop your automated trading system with Prorealtime. All that you need to make a robust trader bot is included in the package. The automated trading Proreatime template is now available in my online shop.
---
Automatic investment backtesting
I am working on a robo-advisor project geared towards long-term investment. I made the proof of concept on the Prorealtime platform and turned the source code into Python language. I launched the first draft version of my robo-advisor on the New York Stock Exchange, and I obtained promising results. I continue to develop this automatic investment system to make it more efficient.
Today, I backtested three different strategies on more than 35000 stocks and ETF:
an automated investment system that buys each month the first or the fifteenth day of the month.
a momentum strategy that opens a long entry only if the trend is bullish.
a non-directional trading system that opens long entries only if the market behavior is not abnormal.
You can check the first results on the following stock exchanges places :
Available market places
You can search and find a stock or an ETF using our market search engine: https://artificall.com/ai/search.php
Find the best stocks to invest in 2022
I designed a stock screener analyzing the fundamentals of listed companies. It implements an artificial intelligence selecting candidates by recognition:
https://artificall.com/ai/screener/similarity.php
 How does it work?
With this screener, you don't have to set anything. You only have to search for your preferred company and click on it. Then the algorithm will analyze the fundamentals and return all companies which closely resemble them.
Here is an example of obtained stocks for The Procter & Gamble Company: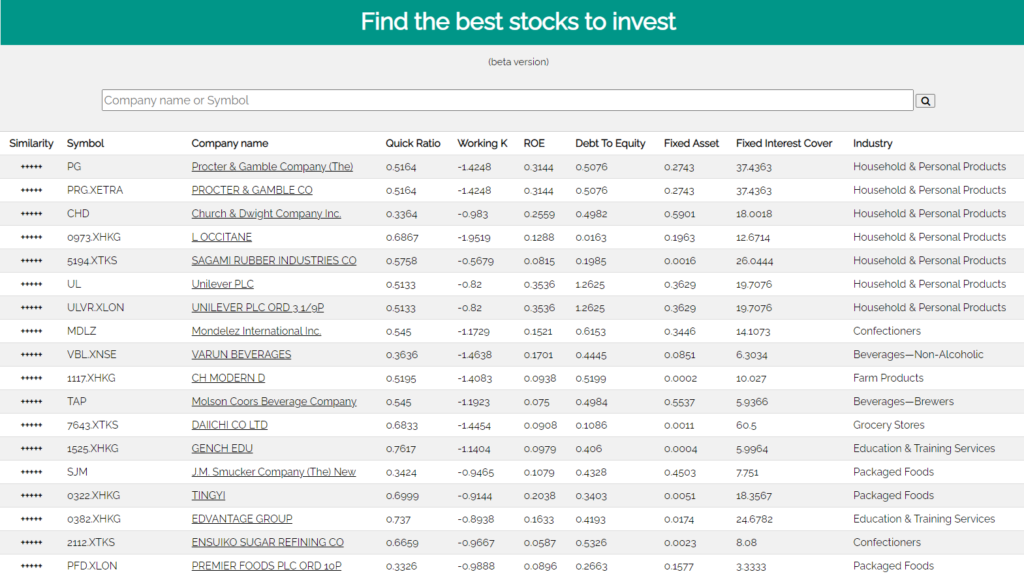 Why use this particular screener?
Save many times
Instead of setting many parameters as with a classical screener, you simply have to select a company with strong fundamentals. The screener will return stocks having the same financial ratios.
Discover new companies
The AI compares the fundamentals of all the listed stocks in the database. That includes different stock exchanges in several countries. The screener may help you to find new investment ideas.